GISM2019 annual meeting

April 04-05, 2019. For the first time in the history of GISM, the annual meeting will take place in beautiful Genova, at the Centro Congressi IST Nord - Ospedale Policlinico San Martino!
The program is divided in 2 days and consists of several sessions that we hope will be of interest to all researchers involved in the production and application of MSCs in clinical applications.
We tried to keep an affordable cost of registration, and to give young researchers the chance to win a personal prize.
IMPORTAN DATES
a) DEADLINE ABSTRACT SUBMISSION: Febbraio 14, 2019, 23:59

CEST

Febbraio 26, 2019, 23:59

CEST
b) DEADLINE EARLY REGISTRATION:

March 01, 2019, 23:59 CEST

  

March 08, 2019, 23:59 CEST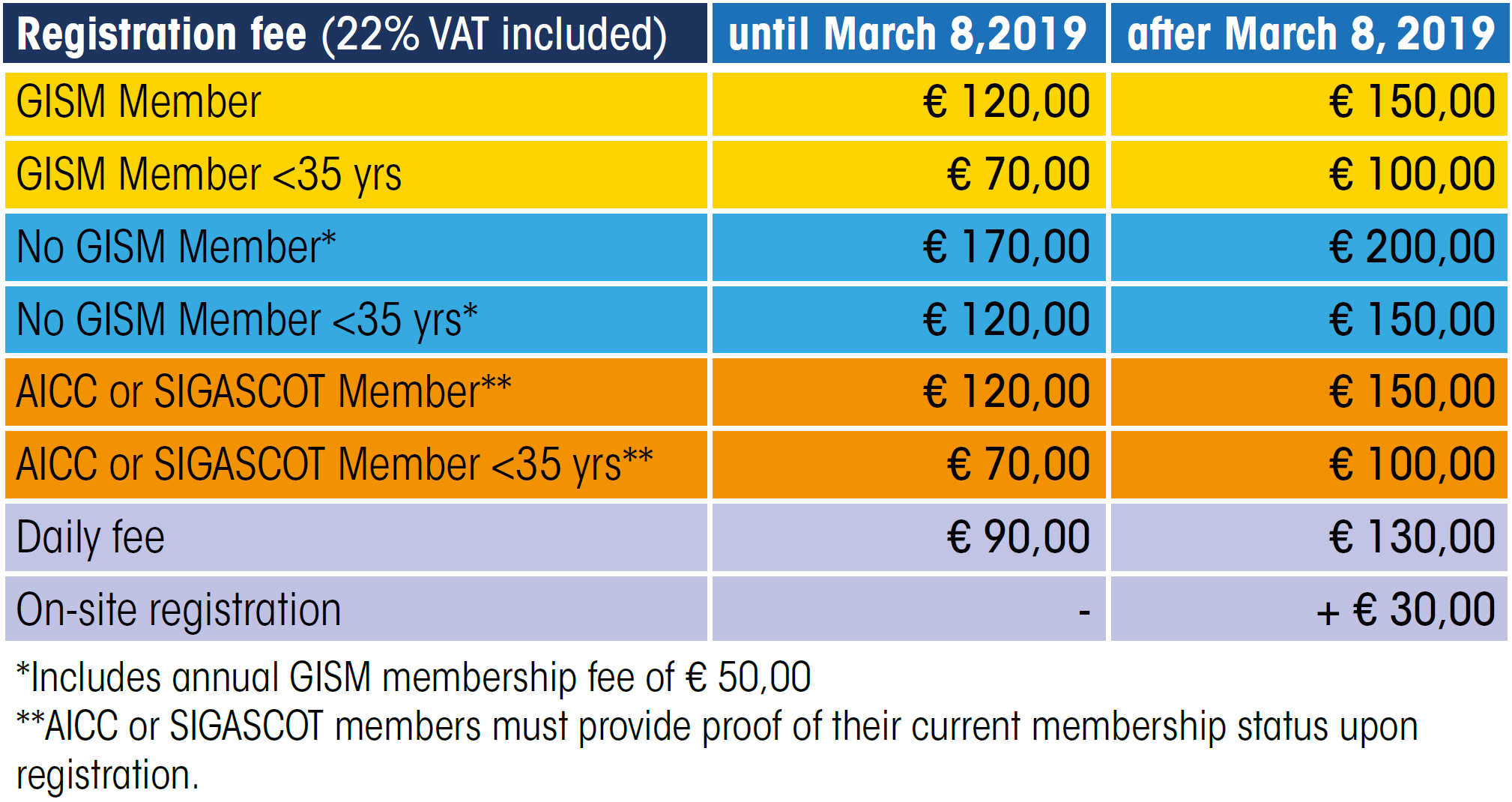 For the payment of the registration fee, please, use the following bank account:
       IBAN: IT09X0335901600100000130961
       BIC: SWIFT BCITITMX
specifying the title of the event (i.e. 2019 GISM annual meeting) and  the surname of the person you are making the payment for.
ABSTRACT SUBMISSION INTRUCTIONS
1) WRITING THE ABSTRACT: each abstract must contain the following items:
- "Objective": indicate primary purpose of study.
- "Materials and Methods": description of data sources, subjects, design measurements and data analysis.
- "Results": summary of the main findings.
- "Conclusions": study's conclusion and/or implication of the results.
2) FORMAT: create a Doc or Docx file realized in this way:
- Language: English.
- Font: Times New Roman.
- Font size: 12 points.
- Interline: single spaced.
- Words limit: 450 words (this must be applied to the main body of the abstract only. Title, authors' names and affiliations are excluded)
- References should not be included in the abstract.
- Use of standard abbreviations is desirable.
3) FILE UPLOAD:
Doc and Docx files are accepted. Please make sure that the document you upload contains only the main body of the abstract. Title, Authors' names and their affiliations must be added exclusively by filling the submission form at:

POSTER SIZE
Posters must be printed in standard B1 format, portrait format (i.e. 70,7 cm width and 100,0 cm height). Landscape format is not allowed.